Home
Talk

13
702pages on
this wiki
Featured Article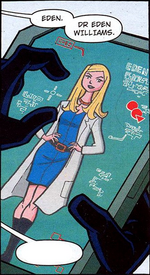 Doctor Eden Williams appears only in Cartoon Network magazine's comic Action Pack Issue #54 titled "Heart of Stone".

Eden Williams was an evolutionary mutation researcher. After the Nanite Event, she traveled to Abysus to collect data. However, her gear got damaged and one of the Abysian plants scratched her hand, thus turning her into an E.V.O. Read more >
Announcements
February 12, 2012: Late Announcement: The Gallery Pages are currently being replaced by Image Categories. For more information read the Community Messages located on the right side of the Recent Wiki Activity page. Thank you all for your understanding and contribution to this project.
October 16, 2011: LittleJuniper has been promoted administrator
September 17, 2011: New episodes of Generator Rex have returned to Cartoon Network, now airing on Fridays.
September 17, 2011: Late Announcement: Wszemir and Flickfreak have been promoted administrator.
August 9, 2011: The wiki's new background has been made by LittleJuniper.
July 29, 2011: The wiki's new banner has been made by LittleJuniper.
July 18, 2011: Katara20 has been promoted administrator.
July 6, 2011: JuniperAlien has been promoted bureaucrat of the Generator Rex Wiki.
Cartoon Network has moved Generator Rex to now air brand new episodes on Saturdays at 7:30/6:30 A.M. Central.
Activision has announced that they will be releasing a game entitled Generator Rex: Agent of Providence. Generator Rex: Agent of Providence is due to be released in October 2011.
On October 19, 2010: Warner Home Videos will release DVD Volume 1 for Generator Rex, which contains episodes 1-9, an art gallery, and commentary.
Featured Media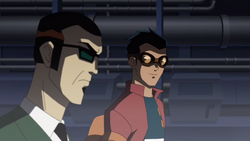 Poll
Were you aware of the cancellation of Generator Rex?
Helping out
To write a new article, just enter the article title in the box below.
Not sure where to start?
If you are new to wikis, you may want to read the Help pages.
Adding content
If you want to help but you're not sure where to start, try improving the various stub articles by expanding them.
Another helpful activity would be to check the list of wanted pages for frequently linked-to articles that don't exist yet.
Editorial help like spelling or grammar is always appreciated.