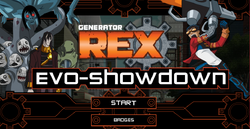 EVO Showdown is a game from Cartoon Network Asia. It has four stages from four episodes in the series.
Appearances
Stages
Instructions
Main
Use A, W, S, and D to move Rex
Use the LEFT MOUSE to attack weapon
Upgrades
Slam Cannon - ????? - ????? - ????? - ?????
Smack Hands - ????? - ????? - ?????
Big Fat Sword - ????? - ????? - ?????
Badges
Rex-Tacular - Last five minutes without taking any damage.
Slicer - Defeat 2500 enemies using the Big Fat Sword.
Splatter - Defeat 2500 enemies using Slam Cannon.
Iron Man - Lasted ten minutes in the game.
Crusher - Defeat 2500 enemies using Smack Hands.
Evo Hunter - Defeat 10,000 enemies.
Ultimate - Defeat 25,000 E.V.O.s.
Lean, Mean De weeding Machine - Defeat Van Kleiss.
Gone Fishing - Defeat Sea Monster E.V.O.
Boom Stick - Fully upgrade the Slam Cannon.
Nice to Meechum -Defeat Peter Meechum.
A Spider-Man - Defeat the Spider E.V.O.
To the Hilt - Fully upgrade the BFS.
Talkin' Smack - Fully upgrade the Smack Hands.
Gameplay
Ad blocker interference detected!
Wikia is a free-to-use site that makes money from advertising. We have a modified experience for viewers using ad blockers

Wikia is not accessible if you've made further modifications. Remove the custom ad blocker rule(s) and the page will load as expected.