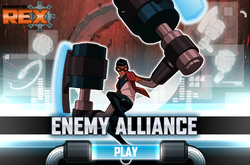 Enemy Alliance is a Cartoon Network online game.
Characters
Locations
Desert cave
Circuit canyon
Zag RS
Controls
UP, DOWN, LEFT and RIGHT - Move Rex.
A - Blast Caster
S - Funchucks
D - Call Van Kleiss
X - Attack (Battle Axes and Smack Hands)
Z- Jump
Z+X- Punk Busters
Gameplay
Trivia
Ad blocker interference detected!
Wikia is a free-to-use site that makes money from advertising. We have a modified experience for viewers using ad blockers

Wikia is not accessible if you've made further modifications. Remove the custom ad blocker rule(s) and the page will load as expected.