Featured article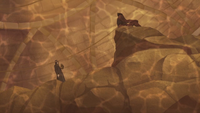 Rex and Bobo are given an assignment to fix the failing shield around the Bug Jar. Briefly leaving Bobo responsible of the regulator, Rex spots Van Kleiss' arrival with the Pack, including Circe. With permission, Rex follows the party and eventually discovers that the Pack are attempting to forge an alliance with the inhabitants of the Bug Jar and their leader, NoFace. Rex plans to bust the conference but Rex is caught by Biowulf, Circe and Skalamander. He slips away with Circe, but she achieves the upper hand and delivers him to Van Kleiss. He trades Rex for NoFace's partnership and Rex battles NoFace one on one. Due to Rex's importance, Van Kleiss is prompted to stop NoFace from going too far. NoFace and his minions go to war with Van Kleiss and the Pack, but Rex slips away. He returns to the regulator and fixes the shied, however, Circe betrays the Pack and assists Rex by returning the EVOs into the Bug Jar. Rex forms his Rex ride and races out of the Bug Jar before being trapped. Granted the opportunity to start anew, Circe is given a Providence cycle to travel wherever she wishes.
Helping Out
To write a new article, just enter the article title in the box below.
Not sure where to start?
If you are new to wikis, you may want to read the Help pages.
Adding content
If you want to help but you're not sure where to start, try improving the various stub articles by expanding them.
Another helpful activity would be to check the list of wanted pages for frequently linked-to articles that don't exist yet.
Editorial help like spelling or grammar is always appreciated.
Ad blocker interference detected!
Wikia is a free-to-use site that makes money from advertising. We have a modified experience for viewers using ad blockers

Wikia is not accessible if you've made further modifications. Remove the custom ad blocker rule(s) and the page will load as expected.