Featured article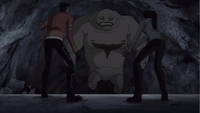 When White Knight welcomes new graduate, agent Kenwyn Jones, he immediately sends her on her first mission with Rex and Bobo. The assignment is to go undercover, attend a party with human and EVOs, and report back if civilians seem unsafe. However, Rex's and Kenwyn's unique methods of getting things done prompt them to butt heads. While, Kenwyn is hasty to contact White, Rex reassures her that it is not the way things are done. But when EVO's are the ones truly in danger, the entire mission is turned on its head. Kenwyn patiently follows Rex's techniques and they discover a dark agenda afoot. A woman, who is undercover, teams up with an EVO to sabotage the event. As things become desperate, Kenwyn and Rex put their differences to use and successfully defeat their enemies. They report back to Providence, having a positive review of their mission and even more positive outlook on one another.
Helping Out
To write a new article, just enter the article title in the box below.
Not sure where to start?
If you are new to wikis, you may want to read the Help pages.
Adding content
If you want to help but you're not sure where to start, try improving the various stub articles by expanding them.
Another helpful activity would be to check the list of wanted pages for frequently linked-to articles that don't exist yet.
Editorial help like spelling or grammar is always appreciated.
Ad blocker interference detected!
Wikia is a free-to-use site that makes money from advertising. We have a modified experience for viewers using ad blockers

Wikia is not accessible if you've made further modifications. Remove the custom ad blocker rule(s) and the page will load as expected.