Featured article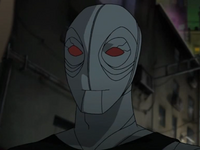 Tuck is an old and good friend of Rex Salazar's. He was an EVO and member of Rex's old street gang, along with his companions Skwydd and Cricket. Like his friends, Tuck was unaware of Rex's betrayal in the past.

When meeting Rex again a few years later, Tuck revealed that the gang was involved in organized heists with a crime lord named Quarry, and were looking for a way out. After learning the truth about Rex, Tuck had a hard time trusting him, but eventually believed Rex had changed and helped fight for his liberation.

With Providence under the administration of Black Knight and Quarry's return, Tuck was one of the various EVOs who were captured and put under mind control. After Quarry's final defeat, Tuck was eventually cured and is no longer an EVO. Read more...
Helping Out
To write a new article, just enter the article title in the box below.
Not sure where to start?
If you are new to wikis, you may want to read the Help pages.
Adding content
If you want to help but you're not sure where to start, try improving the various stub articles by expanding them.
Another helpful activity would be to check the list of wanted pages for frequently linked-to articles that don't exist yet.
Editorial help like spelling or grammar is always appreciated.
Ad blocker interference detected!
Wikia is a free-to-use site that makes money from advertising. We have a modified experience for viewers using ad blockers

Wikia is not accessible if you've made further modifications. Remove the custom ad blocker rule(s) and the page will load as expected.