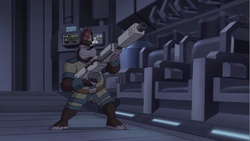 A missile launcher is a long-range weapon used by Providence. It's mostly used for EVOs on a larger scale.
History
It was initially supposed to be used for large EVOs in the The Bug Jar. Bobo used the missile launcher on a larger EVO that attacked the ship he was in. While that was about to crash, he was trapped inside of it. Later, in order to get out of the Bug Jar, he had to use it to open the shield.[1]
Appearances
Season One
References
Ad blocker interference detected!
Wikia is a free-to-use site that makes money from advertising. We have a modified experience for viewers using ad blockers

Wikia is not accessible if you've made further modifications. Remove the custom ad blocker rule(s) and the page will load as expected.