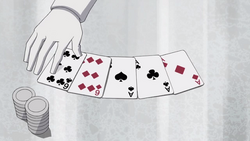 Poker is a card game that sometimes involves betting money. Poker is one of Bobo Haha's favorite games.
History
At Paradise, Bobo spotted a few agents playing a poker game and decided to join in, but couldn't because he didn't have enough money to bet with.[1]
Robo Bobo was programmed to play poker like the real Bobo against Agent Jackson. However, he lacked his skill, eventually losing. Later, Robo Bobo witnessed Jackson playing another agent who offered a rematch.[2]
References
Ad blocker interference detected!
Wikia is a free-to-use site that makes money from advertising. We have a modified experience for viewers using ad blockers

Wikia is not accessible if you've made further modifications. Remove the custom ad blocker rule(s) and the page will load as expected.