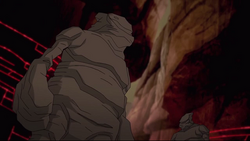 Sand Sentinels were created and controlled by Zag RS by combining sand and nanites. Their mission was to defend Zag RS's controls, but they were eventually defeated by Rex and Van Kleiss.[1]
Appearances
Season Two
Video Games
Trivia
The sand sentinels are the the main enemies in the Cartoon Network game Enemy Alliance. There are two different types, both with different sizes.
References
Ad blocker interference detected!
Wikia is a free-to-use site that makes money from advertising. We have a modified experience for viewers using ad blockers

Wikia is not accessible if you've made further modifications. Remove the custom ad blocker rule(s) and the page will load as expected.