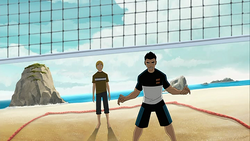 Volleyball is a sport in which two teams are separated by a net. Each team tries to score points by grounding the used ball on the other team's side.
History
Rex challenged Waylan to a game after he was hit in the face with a volleyball he and his friends were playing with. Rex defeated him countless times and eventually won the game, even without Noah's participation.[1]
Trivia
Bizarrely, Rex is skilled at this game whereas Noah is not.
References
Ad blocker interference detected!
Wikia is a free-to-use site that makes money from advertising. We have a modified experience for viewers using ad blockers

Wikia is not accessible if you've made further modifications. Remove the custom ad blocker rule(s) and the page will load as expected.